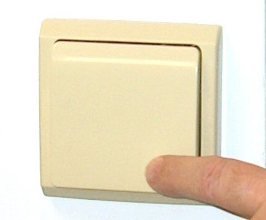 Most of our Internet Clients want to install, replace, or rewire lighting controls without the hassle and cost of knocking holes in walls, ceilings, etc., and running new wires.

Electrical contractors across the United States and Canada are using the Lightning Switch to save time and money in what would be difficult installations for regular wired switches.

Lightning Switch products can be installed in minutes (sometimes in seconds), at a small fraction of the cost.

Thousands of our Clients have created three-way switches where they only had one switch before.

In renovation projects, the Lightning Switch can save hundreds and even thousands of dollars in re-wiring costs. This is especially true in solid wall construction, like brick and concrete structures, buildings with cement-stucco walls and log homes.

Lightning Switches are used to avoid the costly and inconvenient installation of Ground Fault Interrupter (GFI) switches in kitchens and bathrooms. Since Lightning Transmitters have no outside source of electricity -- there is no shock hazard.

A popular use for Lightning Switches is in leased spaces. Lightning Switch Transmitters can be attached to modular walls and left there. You can move the wall whenever you want to rearrange the space for a new tenant, and the "switch" never needs to be re-wired… because it has no wires.

Some of our Customers have come up with their own ways of using the Lightning Switch... many of which we never imagined when we invented the product.

Some other Ways People Are Using the Lightning Switch:

1) Hotel Taxi Calling System
Each bellman has a Transmitter to control a stop/go light at a taxi stand.

2) Combat Simulation Training
US government, specific application unknown

3) Senior Call for Assistance System
For assisted living facilities, patient pushes Transmitter to call for help.

4) Casino Table Service Calls
Dealer pushes Transmitter to call for chips, drinks, etc.

5) Control of Lift for the Handicapped

6) Doctor is Ready for Patient
Doctor pushes a Transmitter in the examining room to turn on a signal to the nurse's station.

7) Control Lights on Docks/Boats from Shore/House

8) Control Christmas Tree Lights or to Control All or Your Holiday Window Candles at Once

9) Control Computer Monitors in Classrooms

10) Factory Floor Alerts
Worker pushes a Transmitter to control a remote signal to call for assistance, inspection, etc.

11) Control Landscape Lighting, Fountains, Pumps for Ponds, etc.

12) "Safe from Shock Hazard" Light Controls for Use in Wet Areas
For kitchens, bathrooms, pool areas, Jacuzzis, etc.

Lightning Switch Transmitters generate their own power.

They have no outside source of electricity -- so there is no danger of electrical shock.

13) One Touch Control of Store Fixture Lighting
One Transmitter is used to control all showcase lights in entire store.

14) Back Lighting of Framed Art
12V Lightning Receiver controls battery-powered lamp that backlights framed art.

15) Individual Control of Overhead Lights in Office Cubicle Area
Each cubicle has its own wireless/batteryless control to switch on/off ceiling lighting.